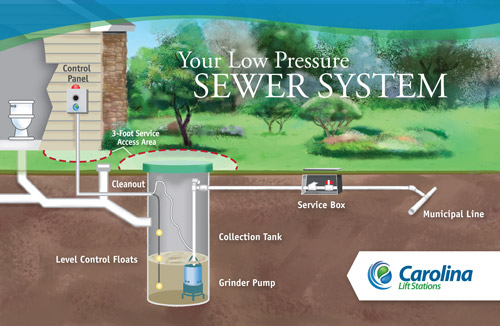 Low Pressure Sewer Systems (LPSS) are a common solution when slopes, topography or other site problems prevent use of traditional gravity sewer systems. In new construction, low pressure grinder pump units are common, while septic tank effluent pumps (STEP) can be used when existing homes with septic tanks need to be added to a sanitary sewer system. Carolina Lift Stations can provide design assistance, complete installation, maintenance and repair for low pressure sewer systems.
Low Pressure Sewer Installation
If you are a builder, developer or water utility representative looking to install low pressure sewer systems in a new development, Carolina Lift Stations can take care of the entire installation process. Low pressure sewer systems can greatly reduce sewer system installation costs in hilly, waterfront, rocky or other undesirable land types for gravity sewer systems.
Our low pressure system installations include the pump, control panel, basin, connection to existing home sewer lateral, conduit and wiring from the panel to the basin, level control floats, tank ballast, 1.25″ discharge piping to the street-side valve box, testing and a start up report. In addition to installation, Carolina Lift Stations provides contracted maintenance of LPSS systems.
Low Pressure Sewer Maintenance
If you are a property manager, represent a homeowners association or are an individual homeowner needing service on a low pressure sewer system, we can help. Low pressure sewer systems need routine inspections and maintenance performed to keep the system running smoothly. Our contracted maintenance program makes it easy to manage your low pressure sewer system. We maintain a timely inspection and maintenance schedule, while providing priority 24-hour repair service.
Low Pressure Sewer Repair
If the alarm on your low pressure sewer control panel has activated you need to take immediate attention. Please call our 24-hour service line 1-888-241-1096.
Our expert technicians are skilled in fluid mechanics and electrical control repair. So whether it is a float, motor, pump or problem with the electrical controls, we have the experience to fix your system.